Caesar Salad Night! Trying to keep going on that summer is here diet, so I am trying to eat more salads. Grilled chicken caesar salad seemed a good idea! Plus when you buy the romaine hearts instead of the salad being precut, you get WAY more salad!!!!!
Cracker Barrel Chicken Tenderloins: Usually every time we go to Cracker Barrel, starting at 10 years old, I order the grilled chicken tenderloins. I love love love the flavor! I always thought that they had to marinate them in something like soy sauce and honey or balsamic vinegar and brown sugar. I did a lot of internet research and came up with this recipe that was listed on several different websites so I thought I would try it. The trick is to not over crowd the pan so that the chicken tenders sear instead of steam, this creates the brown caramelized outside you see in the restaurant. Don't marinate the chicken for much over or under an hour! One girl's blog stated that she asked her waitress at Cracker Barrel exactly what brand of dressing to buy for the marinade and the waitress said "Marzetti's." Unfortunantly, they didnt' have it where I went grocery shopping, so I bought another brand.
CRACKER BARREL GRILLED CHICKEN MARINADE
1 lb. chicken tenders
1/2 cup Marzetti's Italian Dressing
1 tsp fresh lime juice
1 1/2 tsp honey
Mix marinade ingredients together, and add chicken. Marinate for 1 hour. Pan fry chicken tenders on medium high heat, spaced well apart, until the outside turns golden on both sides, plate. I grilled mine in a George Foreman grill. I must say, they turned out extremely juicy, tender and delicious! However, I do not think they tasted like Cracker Barrel! Next time I will double the Honey amount and try to use the correct brand of Italian dressing.
I couldn't resist buying the Pooh Bear shaped honey with the honey pot on his head!
I made my own croutons using some french bread, olive oil, seasoning, and baked them in a 300*F oven until they were crispy. The only caesar salad dressing I use is Cardini's. Caesar Cardini is credited as inventing the casesar salad in 1924. You can buy it at Walmart and most other grocery stores.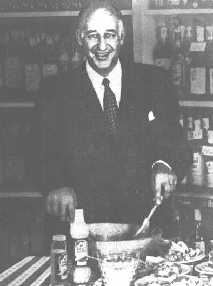 If you want to watch a really silly video on caesar salad, click the below link. It goes to part of a Bewitched episode with Elizabeth Montgomery about her trying to make a Caesar salad! Yes, Caesar is summoned and does not know how to make a Caesar salad.
http://www.youtube.com/watch?v=4YhWoTRDywE
Below is a fancy caesar salad making bowl for dinner parties!